RECREATION
Our guests are invited to make use of the superb swimming pools at local hotels, one of which is almost adjacent to the apartment. While a nominal charge may be made this is often waived. No doubt you will enjoy relaxing with poolside drinks from the bar!
There are many excellent clean beaches which have been awarded the European Blue Flag Standard for sea bathing in the area with attractions such as fishing and paragliding also available. The crystal clear blue water is excellent for snorkelling amongst the underwater rocks. Water-skiing is available from the wonderful sandy beaches at Coral Bay just to the north of Paphos.
The British Army has several bases on the island and highly entertaining concerts (some are free!) are given by military bands in the area throughout the summer season.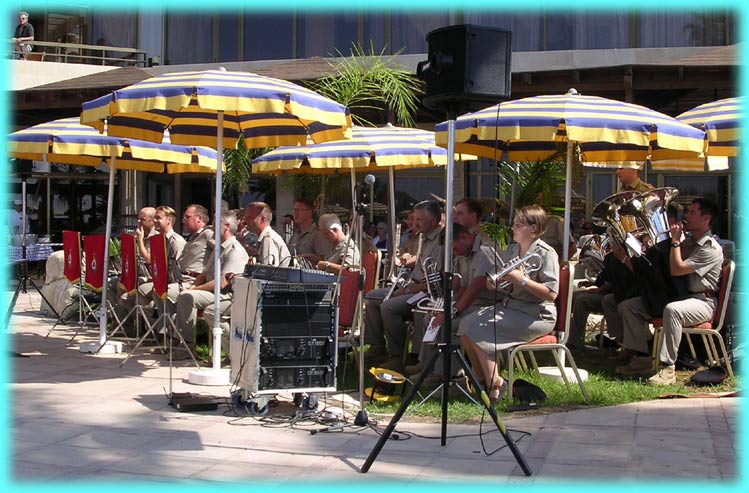 The Waterloo Band of the King's Troup at the Alexander the Great Hotel, Paphos, October 2004
If you fancy exploring further afield a trip to the old port of Limassol or the charming resort of Larnaca is recommended. At Curium, set high on a cliff near Limassol, is the historic open Roman amphitheatre. It is always open to visitors and occasionally plays and concerts are performed in this magical setting overlooking the Mediterranean Sea.
The old walled capital city of Nicosia is well worth a visit and since 2008 pedestrians have been able to visit the Turkish occupied part of the city. At the south eastern extremity of the island is the recently developed resort area of Ayia Napa with superb swimming and silvery sand at Nissi Beach. To the north of Paphos the rugged coastline at Aphrodite's Bay and the town of Polis offer a totally different landscape. Along the coast to the east of Paphos towards Limassol is Aphrodite's Rock, the reputed birthplace of the fabled God of Love.
Dominating the centre of the island is Mount Olympus where skiing during the winter months is available. Or you can just take an enjoyable walk among the pine forests around the resort of Platres.
For a special treat why not take an excursion to Israel or Egypt by boat from Limassol? A two day cruise to the Holy Land or a three day cruise with overnight voyage to Egypt, a coach trip to the Pyramids and other ancient Egyptian monuments returning again overnight is a once-in-a-lifetime opportunity not to be missed. The inclusive cost of each depending on on-board accommodation is about €300 per person.
Go here for more suggestions in the Paphos area.