The Cyprus Climate
Whether you want to escape the cold British winter or seek guaranteed sun in the summer Cyprus will rarely disappoint.
Average daytime temperatures range from the mid 50s (12C) in January to the 90s (mid 30sC) at the height of summer. With low humidity and an ever-present on-shore breeze you will always feel comfortable. Rain is most unlikely between April and October, indeed even clouds are a rarity!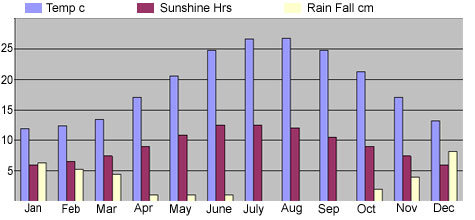 A short drive into the Troodos mountains in summer will be rewarded with a rather fresher environment and wonderful woodland walks with stunning views. In wintertime a thick covering of snow in the mountains gives excellent skiing. In fact at certain times of the year you can ski in the morning and water-ski in the afternoon at the coast!
Mild winters and warm springs result in April and May being a particularly colourful time in Cyprus with a proliferation of spring flowers and verdant foliage transforming the landscape. Find out what the weather's like today here!

SPRINGTIME IN THE HILLS OF CYPRUS