PAPHOS
In Roman times Paphos was the capital of Cyprus, a jewel in the Mediterranean Sea.
The legacy is a wealth of mosaically decorated buildings, an amphitheatre and many archaeological sites such as the Tombs of the Kings.
Set in the south west corner of the Greek (southern) part of Cyprus the area is steeped in history and you will be handsomely rewarded by a visit to the museum and other historical sites in the area.
The Cypriot people enjoy a very relaxed lifestyle. The ladies are invariably models of elegant sophistication and the gentlemen are gallant with no evidence of a hoody or yob-culture. Cypriots are hospitable, love children and are keen business folk. They show a refreshing attitude to health & Safety - basically, it's your fault if you don't look where you're going!
Visitors can benefit from the skills of opticians, tailors and jewellers whose wares represent very good value. English is very widely spoken. Cyprus joined the EU in 2004 and since 1st January 2008 the currency is now the Euro.
The Cypriot people take great pride in extending their hospitality and service to visitors which makes eating out at any of the many tavernas such a pleasure. Whether you prefer seafood such as red mullet or calamari or the traditional kebab, mousaka, sheftali or dolmades accompanied with an excellent local wine you are guaranteed a warm welcome wherever you choose to eat. A meze evening with traditional Greek entertainment is offered by many venues and you will find that your meal is often concluded with a complimentary brandy or other local liqueur. Prices are generally lower than those in the UK and with the setting beneath the stars who could resist!
The apartment is situated in the old town close to the high class shops, Post Office, banks, laundry, market and other amenities. There is an adjacent Internet Cafe.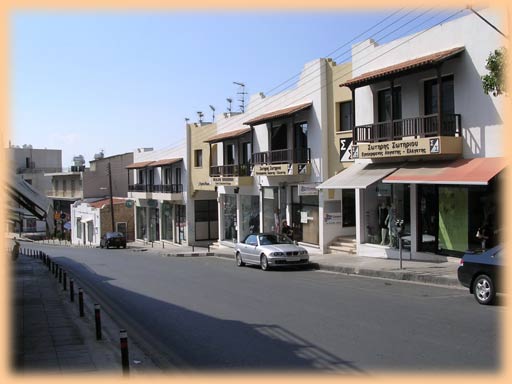 A NORMALLY BUSTLING PAPHOS STREET WHICH FALLS PEACEFULLY QUIET ON SUNDAY!